General Education
Whatever major you pursue, you'll be able to enjoy a flexible, stimulating general education program that allows you to meet requirements in a way that fits your individual interests and builds important skills for future work or graduate study.
General Education is the part of the curriculum that is shared by all students. It comprises a series of courses which all students must complete in order to graduate with a Bachelor's degree. The Program contains 14 courses in three categories: (1) Required Core, (2) Flexible Core, (3) College Option
Lehman College Bachleor Degree 120 College Credits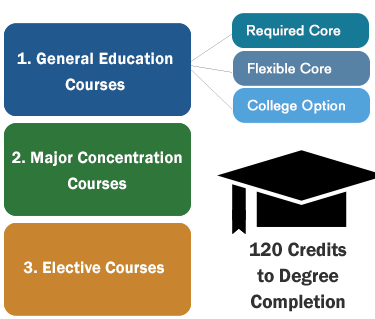 Communication Skills (4 courses)

English (2 courses)
Foreign Language (2 courses)

Quantitative Skills (1 course)

Quantitative & Mathematical Reasoning (1 course)

Laboratory Science

1 course in Life and Physical Science (1 course)
2. CUNY Flexible Core (6 courses) Courses that extend critical thinking across a range of disciplines to provide a broad learning experience
World Cultures and Global Issues (1 course)
US Experience in Its Diversity (1 course)
Creative Expression (1 course)
Individual and Society (1 course)
Scientific World* (1 course)
A sixth course from any of these categories
3 . College Option (2 courses) Multidisciplinary capstone courses that examine topics from the perspective of different disciplines.
Video: Let Maggie explain what you need to do - Video
Important: Writing Intensive Courses
In addition to that, every student has to take 4 courses that are designated as writing-intensive (W). Please note, that not all courses that require you to write a lot are recognized as writing-intensive courses - only courses that are indexed with a "W" will count as writing intensive courses for your degree. These courses are offered in General Education, Major, Minor, and Elective courses. 3 courses are taken prior to earning the 60th credit and 1 following. Get More Information