The Collaborative on Academic Careers in Higher Education (COACHE)
Dear Colleagues,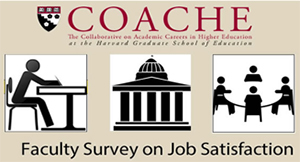 I am pleased to inform you of an important opportunity you will be offered, beginning Tuesday, February 12, 2019 to participate in a survey of faculty job satisfaction. This survey research is part of a national program called the Collaborative on Academic Careers in Higher Education (COACHE), which has been operating from the Harvard Graduate School of Education since 2003. Participation will entail completing a 25-minute, web-based survey; your unique link to the survey will be emailed to you from COACHE in the coming days. COACHE will not use any name or email address for any purposes except for this research.
While there are many surveys that faculty are asked to complete, this one was designed entirely to determine your current job satisfaction compared to faculty at peer institutions. Your views are especially important to us as we strive to attract and retain the best and brightest scholars and teachers, increase the satisfaction of all faculty, and to make Lehman College a great place to work.
The survey is completely confidential and will be handled through the COACHE project team at Harvard. Your privacy will be maintained in all published and written data, and your identity will be carefully protected in all information, including the summary analysis, that COACHE will share with our campus.
We welcome this opportunity to learn from an independent, research-driven, comparative study. However, data from the COACHE study will be meaningful only if we have broad participation. Therefore, I would like to encourage you to respond to this survey. It is very easy to complete.
You will receive an e-mail from COACHE (coachefaculty@opinioncast.com), directing you to the online survey. If you have any questions about this survey, please contact the Office of the Provost at provost.office@lehman.cuny.edu or 718-960-8222 or COACHE at coachefaculty@srbi.com.
Thank you in advance by helping us through participation in this study.
Sincerely,
Peter O. Nwosu, Ph.D.
Provost and Senior Vice President for Academic Affairs and Student Success