Office 365
Welcome to the Lehman College Office 365 Migration Planning Website.  This site will provide an overview of the status of migrating Lehman's faculty and staff email to Exchange Online, a component of Microsoft Office 365.
Get Email Support for Microsoft 365
Why are we migrating faculty and staff email?
Lehman's existing email environment is hosted by CUNY Central and is nearing end-of-support. The availability of Office 365 for Education for faculty and staff, which includes Exchange email, provides an opportunity for a more contemporary email environment and adds new capabilities  that can facilitate increased collaboration across the campus. These additional tools include, Teams and Forms, among others.
Downtime is not anticipated during the migration process, and while our goal is to minimize disruption, some issues can be expected. Our planning team includes CUNY CIS, Microsoft, and a committee of CUNY CIOs, as it is expected that Lehman's approach will allow other CUNY colleges to migrate their email environments in the future.
What is the time frame for migrating email?
The current plan is to launch a phased migration starting in the Spring 2020 semester. After testing is complete, a full migration schedule will be published - and migrations will happen floor-by-floor to ensure adequate support during the transition.
Please see the timeline below for a general migration plan: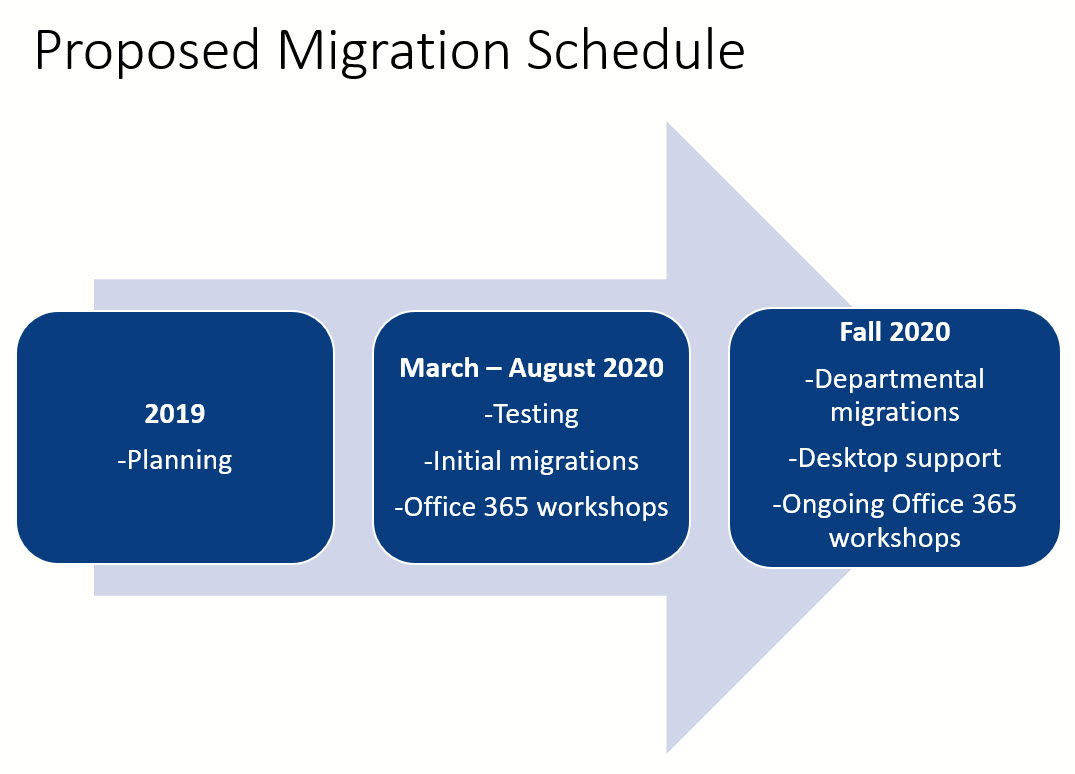 What will be the same after the migration?
Your Lehman email address will remain the same (firstname.lastname@lehman.cuny.edu).
You will experience the same familiar Microsoft email interface, with a more modern look and feel.
All of your Lehman email will be available after the migration. This includes your folders, contacts, calendars, tasks, and, email signatures. Shared calendars and email/calendar delegations will also migrate.
You will continue to connect to email using Microsoft Outlook on the desktop (see information below and attached regarding the need to update desktop computers to Office 2019, if not already done.  
You will continue to use your Lehman login for campus-managed systems including Lehman 360 and the wireless network. See below for Office 365/Exchange Online login changes.
What will change following the migration?
Online access to the Exchange Online email will be from the CUNY MS Office 365 website.
The

CUNY login

(firstname.lastname##@login.cuny.edu) will be used to

sign-in

to email, as well as all Office 365 tools. The CUNY login is already used for CUNYfirst, Blackboard, DegreeWorks, and other CUNY systems. Over time, Lehman plans to use this login for campus systems to reduce the need to manage multiple passwords.
Your new email account will behave much the same as your current email, and your desktop Outlook 2019 application should seamlessly recognize your migrated email account.
Office 365 offers powerful collaboration tools that seamlessly integrate with email. These include

Teams

, a replacement for Lehman Connect team sites (file sharing, video calls and chat),

Forms

(surveys, quizzes, polls), and, One Drive (file storage), among others.
The storage size for your mailbox will

increase

to

100 GB

.
The new email platform will always be up-to-date, with improved reliability and security.
After the migration, you can choose to enable a '

Focused Inbox

' to help organize and prioritize your most important email messages.
Mobile devices will need some re-configuration to connect to the new email environment. Instructions will be provided on the Lehman Office 365 website, and IT technicians will be available to support you during the transition.
What can I do now to prepare for the migration?
We will be launching

Microsoft Office 2019

via Self-Service for Lehman desktops and laptops. This will ensure that your device is optimized to work with Exchange email and Office 365. Please call the Help desk if you need assistance.
Use your CUNYfirst log-in to explore Office 365 collaboration tools. This is available now. Here is a link to quick-start guides.
Take advantage of up to five no-cost downloads of Microsoft Office 365 Pro Plus on personal devices (active faculty and staff).
Workshops, as well as guides and videos will be available during the fall semester to assist faculty and staff in leveraging the Office 365 for Education collaboration suite.
The IT division is committed to ensuring that the migration will take place as smoothly as possible, and we appreciate your cooperation in this process. We will issue regular updates on the status of this project, and will provide support throughout the semester.
For more information, or to provide feedback, please contact an IT staff member or the Help Desk.