Introduction to Leadership Certificate Program

The Herbert H. Lehman Center for student Leadership will help you develop your potential as a leader through a comprehensive program of mentoring, skills-building workshops, team-building activity activities, retreats, and community service. Through group discussions, reflective journaling, readings and direct interaction with experienced CUNY/Lehman College faculty, staff, and student leaders, students experience how true leadership can influence our world. Community service/service learning is an essential part of this program, enabling participants to put their knowledge into action.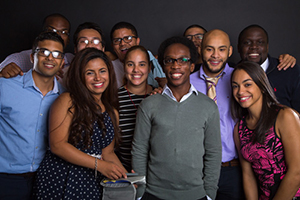 The program consists of seven two hour classes per semester. Classes are offered in three different sections on different days which allow students to choose a time that fits their schedule. Students will receive a certificate of completion at the end the program.
Topics include:
Understanding Leadership
The Relational Leadership Model/Model the Way
Inspire a Shared Vision
Challenge the Process
Enable Others to Act
Encourage the Heart
Leadership is Everyone's Business/The Social Change Model
Schedule

Research
Multi-Institutional Study of Leadership 2015
In the Fall of 2015, four CUNY institutions, including Lehman College, participated in the Multi Institutional Study of Leadership, an instrument developed by Dr. Susan Komives, Dr. John P. Dugan et al. Nearly 600 Lehman students completed the study. The overall scores for the Lehman cohort on the General Outcomes of the Study indicated that the Lehman students scored significantly higher in all eight scales within the CUNY Coalition and scored significantly higher in five of the eight scales in the MSL National Sample, Carnegie Peers, Master's Size (10,000-19,000) and Public Institutions.
Last modified: Jul 6, 2016