China
Beijing Wanji, one of the largest educational consulting companies in China authorized by the Ministries of Education and Public Security to promote study abroad opportunities for Chinese students, included Lehman College in the number of its strategic partners. The company promotes the Intensive English program and STEM majors at Lehman, such as nursing, health sciences, computer science, to high school and community college graduates.
The company representative attended the international breakfast at Lehman in September 2013
13 students have been studying English in the Intensive ESL program at Lehman since Fall 2013
1 student was admitted to Lehman; 2 were admitted to BMCC
Guangzhou College of South China University of Technology and Lehman College signed an agreement to explore possibilities for cooperation in student and faculty exchange programs, joint degree programs, research projects, and other academic and cultural initiatives.
Hebei University of Economics and Business is Lehman's partner in scholar support.
Dr. Wang Chongrun, Dean of Financial School of Hebei University of Economics and Business, spent six months at Lehman College conducting research on real estate "bubbles" upon the invitation of the Lehman Department of Economics and Business and the School of Continuing and Professional Studies.
Another scholar is expected to conduct his investigation in summer 2014.
Minzu University, Beijing, China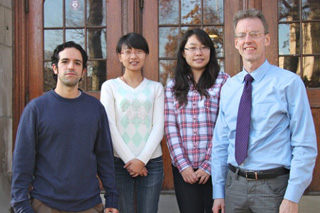 Colleagues at Minzu University and Professor Edward Kennelly of Lehman established a close research partnership to study health benefits of plants which are used in traditional Chinese medicine. This collaboration is taking place under the auspices of 111 Foreign Intellect Creativity Program sponsored by the Chinese Ministry of Education.