Commencement Speakers
Keynote
Sen. Andrea Stewart-Cousins
President Pro Tempore and Majority Leader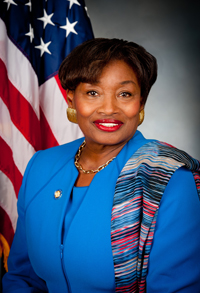 In just her first year as Senate Majority Leader, Andrea Stewart-Cousins led the most productive legislative session in state history. She has been widely recognized as as a trailblazer in local and state government and champion for progressive action. In 2012, she became the first woman, and African American woman, to lead a New York State legislative conference. In 2019, she shattered the glass ceiling when her peers elected her as Temporary President and Majority Leader of the State Senate.
Majority Leader Stewart-Cousins oversaw the passage of historic and transformative legislation on issues including voting reforms, gun safety, women's rights and health care, immigration and DREAMers, the LGBTQ community, the justice system, and sexual harassment in the workplace. Additionally, the Senate Majority under her leadership passed the most comprehensive and aggressive climate change legislation in the nation, and the strongest tenant protections and affordable housing package in state history.
Andrea Stewart-Cousins was born and raised in New York to parents who encouraged a life grounded in education and service. These values, along with her strong belief in advocating for the underserved and championing the needs of working families, have distinguished her as a public servant and progressive leader.
First elected to the State Senate in 2006, Senator Stewart-Cousins currently represents Greenburgh, Scarsdale, and parts of White Plains, New Rochelle, and Yonkers. She previously served as a Westchester County Legislator, and during her tenure was elected Majority Whip and Vice-Chair. As a County Legislator, she authored and passed landmark legislation, including the first human rights laws in Westchester County. Before elected office, Andrea Stewart-Cousins was the first African American to serve as Director of Community Affairs for the City of Yonkers.
Senate Majority Leader Andrea Stewart-Cousins has been honored with hundreds of recognitions and awards due to her extensive legislative work and community service. She was named a "Trailblazer of Democracy" by Eleanor's Legacy; "Delores Huerta Award" by the New York Communities for Change; "Woman of the Year" by the Business and Professional Women's Club; "Legislator of the Year" by the Community Health Association of New York State; "Leader in Social Justice" by Pace Law School; and "Champion of Choice" by New York State Family Planning Advocates. Andrea Stewart-Cousins has also been inducted into Westchester County's Women's Hall of Fame and the American Women of African Heritage's Spirit of Women Archive.
Andrea Stewart-Cousins earned her Bachelor of Science Degree from Pace University and her teaching credentials in Business Education from Lehman College while raising her children as an adult. In 2008, she earned her Masters of Public Administration from Pace University. She is a proud member of Pi Alpha Alpha - a Public Administration Honor Society. Before entering public service, Andrea Stewart-Cousins worked in a variety of professions including customer service, sales, and marketing with New York Telephone/AT&T, journalism, personnel, and as a teacher for Yonkers Public Schools.
Senate Majority Leader Stewart-Cousins resides in Yonkers, was married to the late Thomas Cousins, and has three children and six grandchildren.
Lehman College Presidential Medal Recipient
Rubén Diaz Jr.
Bronx Borough President


Rubén Diaz Jr. first entered public office as a member of the New York State Assembly in 1997, and is currently serving his third full term as Bronx Borough President, having been reelected in November 2017 with more than 88 percent of the vote.
As borough president, Rubén Diaz Jr. has led the implementation of a robust agenda—on economic development, housing, health and wellness, education, and public safety—in every corner of the borough. The Bronx has seen over $18.9 billion in new development of all kinds since Borough President Diaz took office in 2009. This includes more than 45,000 new units of housing, most of it built for lower-income families.
Thousands of new jobs have been created in The Bronx since 2009, thanks in large part to the continued partnership between Borough President Diaz, the Bronx Overall Economic Development Corporation and those seeking to do business in the borough. As a result of those efforts, the unemployment rate in The Bronx has been cut nearly in half, and more than 100,000 more Bronx residents have jobs today than when Borough President Diaz took office ten years ago.
Much of this success is driven by new infrastructure improvements, and Borough President Diaz has helped bring significant new projects to the borough. This includes the East Bronx Metro North expansion, which will bring new commuter rail service to Co-op City, Morris Park/Van Nest, Parkchester and Hunts Point; the future redevelopment of the Sheridan Expressway and the reconstruction of the historic Orchard Beach Pavilion, among others.
Borough President Diaz is also working to improve the New York City Housing Authority (NYCHA), in order to make public housing safer and healthier for the more than 400,000 residents who call it their home. During his early childhood years the borough president lived in NYCHA's Moore Houses in Mott Haven, and later spent a great deal of his teenage years in the former Bronxdale Houses in Soundview. Throughout his more than two decades in public service he has worked to improve the lives of NYCHA tenants. As borough president he lead the citywide charge for an emergency declaration to allow the agency to speed the procurement process and make necessary repairs faster and convened a public housing task force to examine safety issues in NYCHA.
Borough President Diaz has also put forward a robust legislative agenda, having led the charge for a new "living wage" law in New York City, which passed in May 2012 and requires developers that receive heavy taxpayer funding for their project to pay the employees of that development a "living wage." Borough President Diaz has also put forward legislation to create a letter grading system for nail salons and other cosmetology businesses and to develop a public registry of felony gun offenders.
On health, Borough President Diaz has also launched the his "#Not62" Initiative, aimed at improving social and economic factors that will help promote more positive health behaviors within for Bronx residents, including help attain better access to clinical care as well as well improve social and economic factors. In October 2015, The Bronx received The RWJF Culture of Health Prize, which honors communities which place a high priority on health and bring partners together to drive local change, in recognition of those efforts.
Since taking office in 2009 Borough President Diaz has provided tens of millions in funding to projects of all types in every Bronx neighborhood, including new technology upgrades to borough schools, green roofs and boiler upgrades, park improvements and more.
Prior to his current role Borough President Diaz served seven terms in the State Legislature. During that time, he earned a reputation as a champion for working families in The Bronx and across New York State. He demonstrated a passion for constituent service, social advocacy, criminal justice reform and community empowerment balanced with support for sensible, green economic development and job creation programs. He also sponsored and secured passage of important and innovative laws to address the consequences of the intolerable levels of asthma in the South Bronx, healthcare insurance fraud, and quality of life concerns.
In the State Assembly, Ruben Diaz Jr. served as Chair of the Committee on Election Law and on the Assembly's Standing Committees on Education, Ways & Means, Children and Families, Environmental Conservation and Transportation. He was also a member of the Assembly's Puerto Rican and Hispanic Task Force and the Black/Puerto Rican and Asian Legislative Caucus.
A lifelong resident of the Bronx, Borough President Diaz lives in the Southeast Bronx with his wife Hilda Gerena Diaz. They have two sons, Ruben Diaz III and Ryan Isaiah Diaz. He graduated from Lehman College, City University of New York, with a bachelor's degree in political theory.
Borough President Diaz is also the recipient of honorary doctoral degrees in civil law from Berkeley College and Mercy College, and a doctoral degree in humane letters from the Metropolitan College of New York, and the President's Medal from Hostos Community College.