INTERNATIONAL STUDENT AND SCHOLAR OFFICE MISSION:
ISSO is dedicated to providing services, programs and activities that facilitate U.S immigration compliance and cross-cultural learning experiences that assist international student anId scholars in meeting their academic, personal growth and professional goals.
Contact Information & Schedule
250 Bedford Park Boulevard W. Shuster Hall, Room 210 Bronx, NY 10468
(718) 960-7274
isso.shuster@lehman.cuny.edu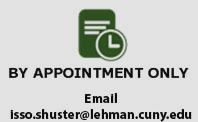 ANNOUNCEMENTS:
ISSO sends a warm welcome to all new & continuing students. Please join us in the Events below:
Check-In @ ISSO

- update / validate your F-1 / J-1 Status - August 12 - 30, 2019
International Student Meet & Greet Reception - Sept 4th, Student Life Building Room 111A
Fall'19 International Student Immigration Program - Sept 9th, Student Life Building Room 111A
RSVP - isso.shuster@lehman.cuny.edu
Accepting Curricular Practical Training work applications

: Aug. 12 - Sept. 12, 2019 (Click)
Download the handout below and bring to the Events with you.
For F-1 Students / Form I-20 & F-1 Visa
If you are already in the United States check this section to learn more about F-1 immigration regulations. If you have any questions regarding any of the F-1 immigration regulations below please contact our office for clarification.
Students in F-1 status may qualify for employment under certain conditions. This section provides basic information about employment and regulations. If you have questions about or would like to determine your eligibility for F-1 employment, please contact our office.