Who We Are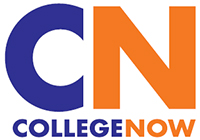 College Now is a collaborative program between the City University of New York (CUNY) and the New York City Department of Education (DOE). It is a FREE transition program for qualified NYC public high school students. Lehman College Now Program is partnered with numerous high schools in the Bronx.
Through College Now, qualified students get an early introduction to the college environment and a jump start on college coursework by taking credit-bearing college-level courses. This experience helps students build the academic skills that are necessary to be successful in college.
College Now students are highly motivated students who possess strong organizational skills and the drive to excel in and manage their academic and extra-curricular responsibilities.
You may also contact the College Now Program at 718-960-8932 or college.now@lehman.cuny.edu for the most recent information on partnerships or if interested in becoming a partner.
Virtual Tour
Take a virtual tour and learn more about the Lehman College campus.