CUNY's Mexican Studies Institute at Lehman College Lands $1 Million City Council Award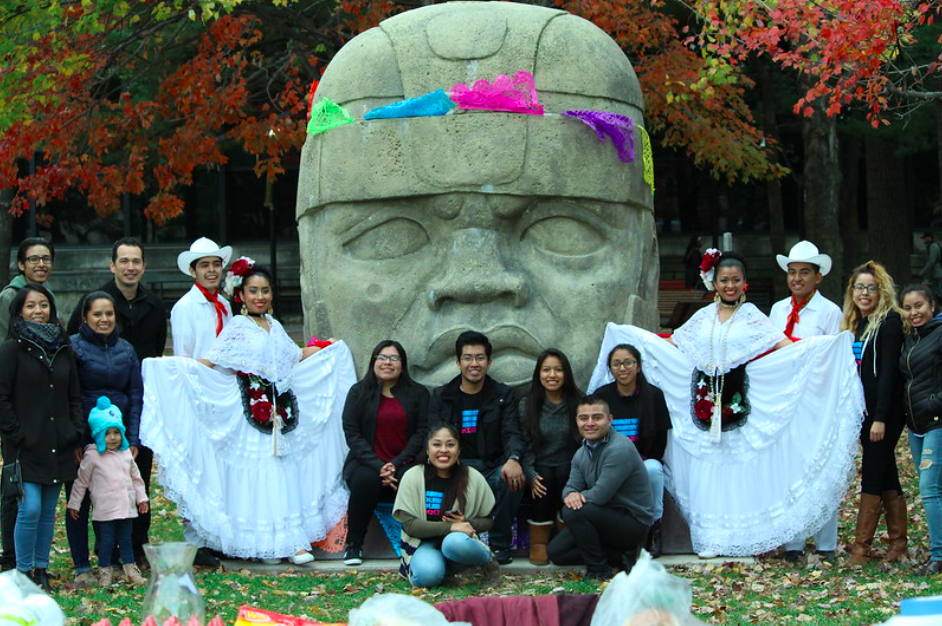 Mexico gifted Lehman this replica of an Olmec Head to celebrate CUNY MSI's first anniversary. It has been the site of many CUNY MSI events, including the Día de Muertos celebration pictured here.
The CUNY Mexican Studies Institute, housed at Lehman College, is celebrating its 10th year with a significant new investment from local lawmakers: In July, it received a $1 million New York City Council allocation to support its work.
CUNY MSI is one of just two research centers in the Northeast dedicated to Mexican and Mexican American studies. As part of its mission, it also strives to boost enrollment of Mexican and Mexican-American students within CUNY and works with international and local organizations to empower the city's Mexican immigrants and those interested in the Mexican diaspora.
The seven-figure allocation, included in the City Council's budget for fiscal year 2022, will help the institute plan not only for the months ahead but for the next five years, said José Higuera López, CUNY MSI's deputy director. Calling the funds a "milestone," he noted that the award is four times the amount CUNY MSI received from the City Council just three years ago.
"This award reflects the commitment the city has to equity and promoting growth," he said. "It also sends a strong message that the Mexican Studies Institute is fully supported."
CUNY MSI fosters research projects, administers the Mexican Studies Archive and Library, and sponsors conferences, workshops, symposia, and publications. It also partners with the New York Legal Assistance Group to support undocumented young people protected by the Deferred Action for Childhood Arrivals program and immigrants seeking citizenship, green card renewals, visas, and help filing deportation and asylum petitions.
According to Higuera López, CUNY MSI's immediate goals include establishing an oral history project about Mexicans' and Mexican-Americans' contributions to New York City. The institute also plans to expand its free support services for Spanish-speaking New Yorkers, which includes business and entrepreneurship training.
Founded in February 2012, CUNY MSI began its 10th fiscal year in July and recently announced the appointment of a new director: Juan J. DelaCruz, an associate professor of economics and business at Lehman College and an associate faculty member at the CUNY Graduate School of Public Health & Health Policy. His two-year term begins August 25.
And, as it marks a decade of service, the institute is among the busiest it has ever been: CUNY MSI served more than 48,000 New Yorkers in the first three quarters of this year compared to 16,000 in all of 2019, Higuera López said.
The funding increase was championed by Brooklyn Councilman Carlos Menchaca, who is chairman of the City Council's Committee on Immigration. Menchaca became New York State's first Mexican-American elected official in 2013, and he and Higuera López have worked closely together in the past several years.
"It was incredibly important for me to fight for this funding because representation matters," said Menchaca, who noted that the increase puts the institute on a par with other large CUNY cultural institutes. "CUNY's Mexican institute tells our history and uplifts the important contributions we have made to this great city."
What's more, Higuera López said that the institute had awarded some $1 million in privately fundraised scholarships to more than 250 CUNY students over the past decade regardless of their immigration status.
"For us, the main goal is to bring students into CUNY and to show them that Lehman provides more than a degree," Higuera López said. He noted that the institute promotes the offerings available from Lehman's School of Continuing Professional Studies, including ESL classes, healthcare and OSHA certifications, and a technology center and small business incubator.
"The more people come to campus, the more they can visualize themselves being on campus and see that education is attainable," he said. "Promoting access to education is the first step toward upward mobility."
To learn more about the institute's offerings, including a series of events it's holding to celebrate its 10-year anniversary, visit its website or follow them on Instagram, Facebook, and Twitter.