Band-Aides and Blackboards


Sally Goes to School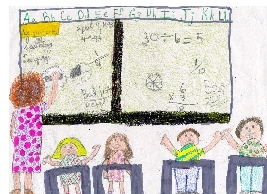 "Welcome, Sally, come on in-Iíve saved a seat for you." The teacher pointed to a desk right in front of her own in the very first row. As I closed the big door and walked across the room, I started to blush. I could feel my face turning bright pink, and I was sure that everybody was looking at me. Why couldn't I make myself invisible, like in the movies? It just wasn't fair. But I did as I was told, and as I slid down into that seat, on this fourth day of school, in Mrs. Prestonís third grade classroom, I tried hard to disappear.

The room was big with lots of windows and lots of desks (the kind that open up), and an old fashion blackboard with everybodyís names written in script. The windows had little blinds in front of them, but you could still see outside if you looked hard, and outside, right across the street and behind some bushes, was the childrenís hospital.


I didnít go to school on opening day because I was in that hospital, on the fourth floor, in the green room with the television set and the two magic beds. I thought that the beds were magic because I could make mine go up and down, just by pushing a button. And when I pushed another button, a nurse would talk to me, right through the wall. I guess that button was part of a walky-talky, sort of like the one I got for Christmas last year. There were certainly many new things to learn about in that place. And at first I was afraid.
| | | |
| --- | --- | --- |
| | | |
| Want to read the preface? | Fly away home | Onward to the next page |
Joan Fleitas, Ed.D., R.N.
Associate Professor of Nursing, Lehman College, CUNY
Bronx, New York 10468
Last updated: November 14, 2004