The New York
Botanical Garden
200th Street and
Southern Boulevard


Carl Eugene Tefft

Fountain of Life
1903-1905
bronze and marble,
10' x 5' x 8'
Museum Building entrance

Lenape (Delaware) Indian

Turtle petroglyph
ca. 1000 AD to 1600 AD
carving on granite
5 1/2" x 4 1/4"
Watson Building Lobby

The New York Botanical Garden was founded by the New York State legislature in 1891 largely on the urging of Nathaniel Lord Britton, a Columbia University botanist. The land was purchased in 1884 from the Lorillard family, the tobacco dynasty. The site was recommended by Calvert Vaux and Samuel Parson, Jr. and preserves the beautiful gorge of the Bronx River, a virgin hemlock forest, and some of the historic buildings which existed before the park was created. The design of the gardens was based on those of the Royal Botanical Garden at Kew, England. It occupies 240 acres at the northern extreme of the 661 acres which make up Bronx Park and includes a conservatory, arboretum, museum, library, herbarium, and a variety of groves and gardens.

The Fountain of Life at the New York Botanical Garden stands in front of the Museum Building which houses the garden shop, library, and herbarium. A fountain was included in the original plan for the Garden approved in 1897 by The Board of Managers. The fountain was an important component of the Garden's layout and several design competitions were held for it, beginning in 1900. These initial efforts were disappointing and the Board turned to the National Sculpture Society for advice. In April of 1903, the design by sculptor, lithographer and teacher, Carl E. Tefft was selected. On the base of the lively, Berniniesque bronze fountain are heroic figures; a female nude astride a rearing horse, a boy trying to control another rearing horse, a second boy sitting on the back of a dolphin. In the larger basin below, a bronze merman sitting astride a gigantic crab and a mermaid are startled by the scene above them. The work was purchased by the City in 1905 at a cost of $20,000. It was cast by the cire-perdue process at the Roman Bronze Works in Greenpoint, Long Island.

Turtle Petroglyph may be the oldest intact work of art native to the Bronx. Created by the pre-Columbian Muncie-speaking Delaware Indians known as the Lenape, the granite boulder bears an etching upon its surface roughly in the shape of a turtle with designs on its shell. It is possible that the turtle carving was meant to represent the Turtle clan or perhaps it served as a trail marker for a nearby spring or hunting territory. The turtle also played an important role in that people's mythology, for it was believed that a turtle supported the world from below while swimming in the sea of eternity.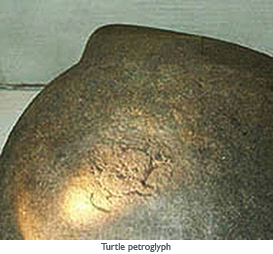 [More about Carl Eugene Tefft]
[More about the Bronx Park neighborhood]