Welcome to Lehman Online!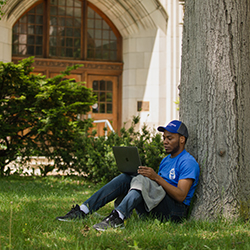 We are so happy you chose Lehman College and want to ensure that your online experience is a positive one. The Online Education Department, as well as Lehman college offices will provide you with the support you need to be a successful online learner. As an online student at Lehman College, you will be able to access all student support services remotely. And, if at any time, you have questions related to online learning, please email us at: lehman.online@lehman.cuny.edu and we will answer your question or refer you to the appropriate college office.
Resources
Pace University Link Broken
Modes of Course Delivery
Choose a course that fits your schedule. Select among online, hybrid and in-person options that will allow you to fulfill your academic requirements.
Our courses are offered in three (3) modalities of instruction:
Asynchronous Online are 100% of instruction delivered online, with no required real time meetings.
Synchronous Online are 100% of instruction delivered online, with required scheduled dates and times for real time online class meetings.
Hybrid classes are a combination of in-person and online instruction. Pay close attention to class dates and times to make appropriate scheduling choices.
In-Person classes take place in a physical classroom during scheduled class times. Some instructors use Blackboard to enhance learning experiences or share resources.


Programs Offered Fully Online
Learn about our fully online programs, with all courses delivered online.
Note: Students in online degree programs pay the New York State tuition rate and do not need to establish residency. Learn more about the tuition and fees.