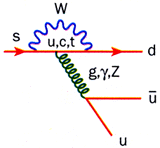 I've taught a variety of undergrad physics courses at Lehman: conceptual physics, college physics, physics for engineers, modern physics, special topics (particles and cosmology), classical mechanics, quantum mechanics. I've also taught quantum field theory and particle physics at the CUNY grad center.

The particle physics course resulted in a set of lecture notes: Introduction to high energy physics (235 pages, PDF format, 2.2MB)

For the General Physics courses PHY 166, 167 you can get a sample syllabus and study guide at
(they don't change much from year to year).