Well, I'm so happy that you decided to visit my page on BandAides. It's the next best thing to getting to know the real me in person. My name is Ashley, and my 7th birthday party was on April 29th, way up north in Buffalo, New York. Pretty soon I will be a kindergarten graduate. In fact, after June 18th, 2007, you can consider me a first grader.


I have a list of medical diagnoses so long that I'm sure you would agree with everyone who knows me that this graduation is a huge milestone (whatever that means)
for my whole family!

I live with my Mom and Dad
in a tall apartment building. I don't have any brothers or sisters, but I have the BEST grandparents, great-grandparents, aunts, uncles, and Gizmo (
my grandma's dog)
. We all live close to one another so we get together a lot. I enjoy my family very much!

I bet you already guessed that I live
in Buffalo, NY. I really like it there because we get to enjoy all 4 seasons...Winters full of snow and hot chocolate, Springs full of flowers, budding trees, green grass, Summers full of comfortable sun (sometimes it's a little too hot!), playing outside and swimming, and Falls with beautiful leaves and trips to Fall fests and pumpkin farms. I also love our zoo, our libraries, my school, and going to visit Daddy at work (he works in the pharmacy at a big hospital)! I wish that we had a Disneyland close by and I wish we lived near Bikini Bottom so I could play with SpongeBob.
There are some things about me that are pretty unusual, and other things, lots of other things, that make me more like my friends than different from them. First the differences, so I can get them over with... my body has had to put up with having about a zillion medical problems (don't worry if you don't know what they all mean, they certainly confuse me!):
SCID-ADA
(that's a shortcut for severe combined immunodeficiency and
adenosine-deaminase deficiency), adrenal insufficiency, hypothyroidism, hypertension, p
soriasis, delta agranulocytosis clotting disorder, auto-immune hemolytic anemia, herpes simplex keratitis, pulmonary fibrosis, GERD (that stands for gastroesophageal reflux disease), and finally, tada, RAD (a shortcut
for reactive airway disease...something like asthma). To keep me as healthy as possible, I live with my wonderful family, and I take about 13 medicines every day, injections twice a week, and liquid medicine into something called a mediport on my body every other week
(don't worry, a mediport is an excellent idea because it means that I don't have to get stuck with needles any more than I already do!).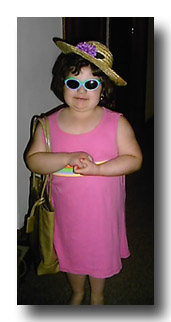 Dressing up and ready to party!


You're probably wondering why I told you that there's so much about me that is NOT different from other children. Here's a list of the whys...
I love to watch Nickelodeon, especially SpongeBob and Drake and Josh. I love the Harry Potter, Lemony Snickett, and Karate Kid movies and the old show Punky Brewster. I also love to color and play school. I enjoy playing with my Bratz, swimming with my friends at the pools where we live, and spending time with my family! I also really like to impress everybody with my reading skills. I am learning the Wiccan path from Mommy and love to hear stories about the God and Goddess.


The things I like best about me are that I am a good friend, I like to talk to people, I am nice, I am pretty, Mommy says I am SO BRAVE, and I love life and live it to the fullest! Things I'd like to get better about are not always asking to get new toys...or at least being more patient everytime we go the store, and not wanting to eat snacks all the time.

Of course if I has a magic wand that really worked, I'd want to go "swish" with it and make all of those conditions vanish. That would be so cool...then I'd be able to do absolutely everything that the other things kids do without their even thinking about it.
Want to know what's been great about kindergarden? I love my teachers, my aide and the school nurse, and my school is right by home so I know Mom and Dad are always so close by. I wish I could run and play in gym like the other kids but because one of those conditions I told you about is a bleeding disorder, I can't. So art and music are my favorite subjects. I also like lunchtime so I can talk to my friends and enjoy free play!
This is the first year I have been healthy enough for school so this is the first time I have had friends and I love it - everyone in my class is awesome!
My best friends at school are Thomas, Arianna, Kacey, Jacob and Morgan. Everyone knows that I have special needs so everyone helps protect me and look out for me! I love that.
One time some kids at school said I was chubby. I cried alot and the teacher told my mom. So Mommy and I put together a presentation for the class about how some of the medicines I take make me gain weight and appear different. After that the kids never made fun of me again. I think if you have a problem with someone, you have to talk to them and explain to them that what they said hurt your feelings so they won't do it anymore. At least that's what I did.

Blessings to you all for taking a break from your busy lives to read my little story. Ashley