Meet the RD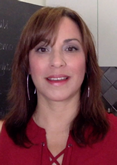 Dina R. D'Alessandro, MS, RDN joined the Student Health Center staff in Spring 2019. Dina holds a Master's Degree in Nutrition from Lehman College where she is also an Adjunct Professor, teaching both graduate and undergraduate classes for the Dietetics, Foods, and Nutrition program.
Dina is a dedicated nutrition professional with over 20 years of experience in the culinary, corporate, and healthcare industries. She currently runs a part-time private practice in the East Village where she works with clients looking to prevent or manage chronic conditions such as Type 2 diabetes, cardiovascular disease, hypertension, and/or gastrointestinal issues. She is also a prenatal dietitian at a high-risk ob/gyn practice in midtown Manhattan, corporate wellness consultant, and self-taught chef.
Dina spends time guiding, counseling, and customizing strategies for clients to meet their health and wellness goals in a realistic and achievable way.
Dina is available at the Student Health Center on Tuesdays or Wednesdays throughout the semester. Hours are:
Wed, Feb 6 @ 11am - 5pm
Wed, Feb 20 @ 11am - 5pm
Tue, Feb 26 @ 12pm - 6pm
Tue, Mar 5 @ 12pm - 6pm
Tue, Mar 12 @ 12pm - 6pm
Wed, Mar 20 @ 11am - 5pm
Tue, Mar 26 @ 12pm - 6pm
Tue, Apr 2 @ 12 - 6pm
Wed, Apr 17 @ 11am - 5pm
Tue, Apr 30 @ 12 - 6pm
Tue, May 7 @ 12 - 6pm
Tue, May 14 @ 12 - 6pm
 Please call x 8900 to schedule an appointment.