by Liz Sanza
This trip was bad in every way,
I've never had a lonelier day,
Although I've been there twice before,
That's not why it was such a bore,
I really liked the laser show,
But desperately wanted to go,
Had I known I'd be alone,
I probably would've stayed at home,
I thought that segregation,
Was illegal in this nation.
I looked around and saw my peers
Were at least three times my years.
I hope that there will come a day,
When my chair won't block the way,
So I can interact with peers,
And look forward to my high school years.
Joan Fleitas, Ed.D., R.N.
Associate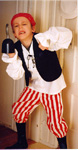 Professor of Nursing, Lehman College, CUNY
Bronx, New York 10468
Last updated: November 14, 2004